STADT- UND KREISBIBLIOTHEKEN VOGTLAND
Veranstaltungshaus mit vielfältigem Angebot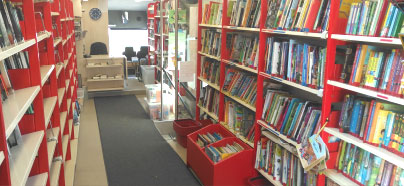 District library and mobile library


The district library addresses its literary -and medial offer to the rural population of the Vogtlandkreis. It provides 15 community-, city-, and school libraries with literature and 18 daycare centers with didactic- and topically prepared media boxes.

The centerpiece is the mobile library, which visits 54 localities and communities all over the Vogtlandkreis in a circle of 4 weeks. The colorful bookmobile does not only stop at central places in the city but also visits schools, care-, and retirement homes and kinder gardens.

Alongside literature, movies, audio books and magazines, electronic forms of media are available and can be borrowed. Because of the participation at the compound "Liesa", a modern and divers online library is at the visitor's disposal.

The support of language-, reading- and media competence is ranked foremost by the district library. Various event offers like pedagogical guided tours for school classes through the library, reading events and cultural projects are very popular by all visitors.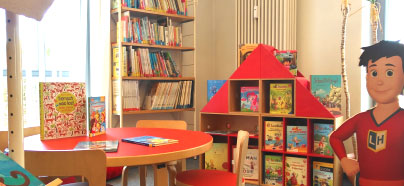 City library Rodewisch


The city library offers a many-faced media supply for the citizens of Rodewisch, including the city parts Röthenbach and Rützengrün. It ranges from contemporary literature for children, teenagers and adults to DVDs, audio books and a comprehensive collection of magazines.

Through the participation at the compound "Liesa" users of the library are allowed to get access to a huge and various electronic media supply.

Additionally, the support of reading- and media competences play a big role in the cooperation with educational-, cultural- and recreational facilities for the city library Rodewisch. Regular guided library tours for children and teenagers are focused.

Furthermore, the city library takes part at the free summer holiday campaign "Buchsommer" (summer of books), where teenagers between the age of 11 to 16 are allowed to browse through the newest literature.
District library and mobile library VOGTLAND – CONTACT & ANFAHRT
Stadt und Kreisbibliotheken Vogtland
Parkstrasse 5A, Haus 3 | 08228 Rodewisch
Tel. 03744 / 3646250
Fax. 03744 / 3646251
Fahrbibliothek: 0175 / 4351398
bibliothek@vogtland-kultur.de
City library Rodewisch
Schulstraße 1a | 08228 Rodewisch
Tel. 03744 / 48971
Opening hours:
MO, WED, FR
closed
TUE, THU
10.00am - 12.00am
13.00pm - 18.00pm