TOPASWELT SCHNECKENSTEIN
Experience history below ground

You can get an interesting insight into the mining- and industrial history of the upper Vogtland area riddled with legends and stories of the mineworkers which are conveyed by our mining guide in the visitor-mine "Grube Tannenberg" on an underground tour.

You can see technical witnesses of the past which enabled the quarrying of treasures out of our mountains during different eras of time. The impressive scenery of an underground lake is the highlight of every guided tour.

And who is up for a birthday- or company celebration and weddings below the surface, is here in very good hands.

Special blanket-programs are offered for groups. You are treated with delicious Vogtland-area dishes in our event restaurant "Zum alten Zechenhaus, which can also be used for privat celebrations.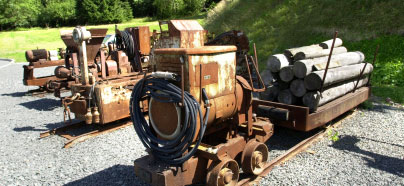 Unvergessliche Erlebnisse unter Tage
Bergbaugeschichte
Führungen durch den Berg, Grubengeheimnisse
Mettenschichten unter Tage
Topasfelsen-Besuch
wissenschaftliche Erkundungen
Grubenfeste, Firmenfeiern, Erlebnisgastronomie
und vieles mehr

TOPASWELT SCHNECKENSTEIN – KONTAKT & ANFAHRT
Topaswelt Schneckenstein
Zum Schneckenstein 42 | 08262 Muldenhammer
Tel. 037465 / 41993
Fax. 037465 / 41825
grube@vogtland-kultur.de
Öffnungszeiten - Führungen
DI - FR
10.00, 11.30, 13.00, 14.30 Uhr
SA, SO, Feiertage
10.00, 11.30,
13.00, 14.30, 15.00 Uhr
Sonderführungen nach Vereinbarung