Open-air museum Eubabrunn in the Vogtland region
Original furnished yards from ancient times

In the south of the Vogtland area, on the border to Bohemia (Böhmen), you can find a part of the city Markneukirchen which is called Eubabrunn. The village was first mentioned in a document in 1165.

Since 1992 the open-air museum Eubabrunn has been constructed and can be visited since 1995. On the 4 hectare large area are three original furnished yards with corresponding outbuildings and household gardens established. The buildings have been relocated from different places of the Vogtland area. None of them was located here in the first place.

Altogether in 18 buildings from times between 1720 and 1830, are permanent- and special exhibitions of various topics shown. On an open space are fields arranged on which historic seeds are grown. Animals can be found on willows and in stables.

The Inn "Grünes Tal" (green valley) with historical furnished chattels can be found on the museum area as well. Celebrations and special events which are fitting to the seasonal flow of the former village life are hosted.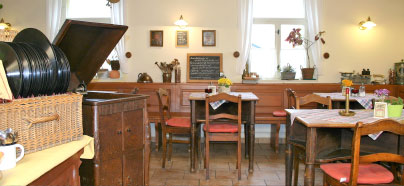 Historisches Leben hautnah
historische Gebäude, originale Ausstattungen
bewirtschaftete Felder, Wiesen, Gärten
Tiere auf Weiden und in Ställen
historischer Gasthof "Grünes Tal"
Dauer- und Sonderausstellungen
Veranstaltungen, Feste
Museumspädagogik
und vieles mehr

VOGTLÄNDISCHES FREILICHTMUSEUM EUBABRUNN – KONTAKT & ANFAHRT
Vogtländisches Freilichtmuseum Eubabrunn
Waldstraße 2A | 08258 Markneukirchen OT Eubabrunn
Tel. 037422 / 6536
Fax. 037422 / 47301
eubabrunn@vogtland-kultur.de
Öffnungszeiten Museum - Sommersaison (April - November)
DI - SO
10.00 - 17.00 Uhr
Öffnungszeiten Museum - Wintersaison (Dezember - März)
SA - SO
10.00 - 16.00 Uhr
sowie nach Vereinbarung auch außerhalb der Öffnungszeiten
Öffnungszeiten Gasthaus Grünes Tal
Sommeröffnungszeiten
MI - SO
11.00 bis 20.00 Uhr
Winteröffnungszeiten
MI und DO
11.00 bis 18.00 Uhr
FR und SA
11.00 bis 20.00 Uhr
SO
11.00 bis 18.00 Uhr
sowie nach Vereinbarung auch außerhalb der Öffnungszeiten