GÖLTZSCHTALGALERIE NICOLAIKIRCHE AUERBACH
Ein besonderes Ambiente für Veranstaltungen

The little culture church in Auerbach is the right address for all kinds of cultural interests like jazz concerts, diapositive-, travel lectures, classical concerts, youth events, singer-songwriter, emerging artists, cabaret, great diverting offerings for children and constantly changing exhibitions are regularly on the agenda.

The functional building, which was founded in 2005, is a homestead for youth music groups and for a variety of creative offerings for children.

Because of the reliable and good cooperation with the Jazzclub Auerbach e.V., guests can look forward to the Auerbacher jazz- and blues autumn and many more highlights.

Constantly changing exhibitions of prestigious artists are presented to the viewers of the gallery during following opening hours: Wednesday-Friday 11am-6pm, Saturday/Sunday 2pm-6pm.

The house can be rented in total or partially. If you are searching a place with classy atmosphere for your marriage or a hall with appropriate technical equipment for your company presentation, or just a basement bar for a come-together in a small round, contact us.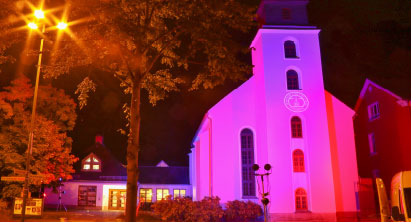 Ein ungewöhnlicher Rahmen für ungewöhnliche Veranstaltungen
Musik der Klassik, Jazz, Rock, Blues,
Ausstellungen, Installationen
Autorenlesungen, Vorträge
Kinderprogramme
Familienfeste, Trauungen, Jubiliäen, Firmenevents
und vieles mehr

GÖLTZSCHTALGALERIE NICOLAIKIRCHE AUERBACH – KONTAKT & ANFAHRT
Göltzschtalgalerie Nicolaikirche Auerbach
Alte Rodewischer Straße 2 | 08209 Auerbach
Tel. 03744 / 211815
nico@vogtland-kultur.de
Öffnungszeiten
MI - FR
11.00 - 18.00 Uhr
SA
14.00 - 18.00 Uhr
sowie 1 Stunde vor Veranstaltungsbeginn