KREIS- UND FAHRBIBLIOTHEK VOGTLAND
Awaken the desire to read!

The district library addresses its literary -and medial offer to the rural population of the Vogtlandkreis. It provides 15 community-, city-, and school libraries with literature and 18 daycare centers with didactic- and topically prepared media boxes.

The centerpiece is the mobile library, which visits 54 localities and communities all over the Vogtlandkreis in a circle of 4 weeks. The colorful bookmobile does not only stop at central places in the city but also visits schools, care-, and retirement homes and kinder gardens.

Alongside literature, movies, audio books and magazines, electronic forms of media are available and can be borrowed. Because of the participation at the compound "Liesa", a modern and divers online library is at the visitor's disposal.

The support of language-, reading- and media competence is ranked foremost by the district library. Various event offers like pedagogical guided tours for school classes through the library, reading events and cultural projects are very popular by all visitors.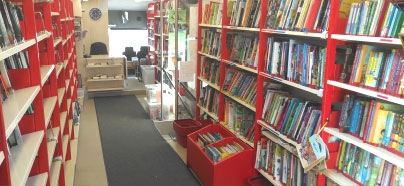 We bring literature and media to you on the countryside
Library introductions,
Reading nights
Bibfit - The library license
Media boxes

KREIS- UND FAHRBIBLIOTHEK VOGTLAND – KONTAKT & ANFAHRT